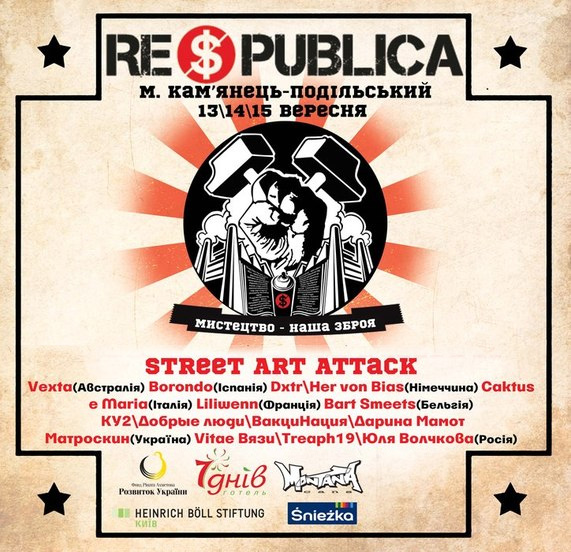 Третий международный фестиваль, три фестивальных дня, 40 лучших музыкальных коллективов страны и зарубежья, 20 райтеров из Австралии, Германии, Италии, Испании, Польши, Украины, России.

Respublica is a three days of music and street- art.
Our Idea:
Take art out of the gallery walls, museums, academies, and put it onto the city streets.
We do not agree with the format of "culture" imposed to us by TV and radio from with unspoken agreement of the state.
Decommercialization of the public city space by means of attraction of modern street art.
Less fences, private areas and supermarkets. More parks, art schools, music events.
The street culture and street education should not necessarily bear a negative shade.
Who do you think grey and dirty streets and buildings can generate and bring up? But if they are transformed into picture galleries, the child who lives in these streets, will grow up a different person at all.
Our goal is to fill our streets with painting, music, dances and poetry.
Festival Re$publica Anti-Moneyfest is conceived as the anticommercial festival action which aim is the concentration of attention on cultural and social problems of small cities, as well as in the country in general.
The festival is the self-sufficient project. We do not have any businesses or political parties behind our back.
Goal of the festival is to show that the present and qualitative