Montana, Germany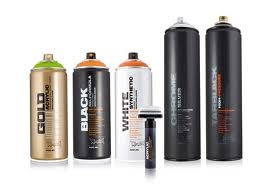 MontanaCans Germany The brand MONTANA has been influencing artists since it's humble beginnings in Heidelberg, Germany. Not only because the team behind the brand has it's roots in Graffiti and Art cultures, but also as they were, and still are, active users. When passion met German precision, a new level in quality art making tools was born.
Montana on-line app to help you to choose the colors.
Montana Black | Montana Gold | Montana White | Tarblack & Sivler | Montana Ultra Wide | Montana Platinum | Montana Nightglow | Montana Acetone | Montana Remover | Montana Primer
Official site – montana-cans.com
____________________________________________________________________________________________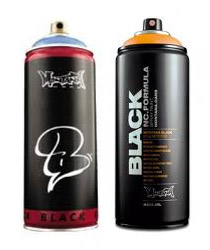 Montana BLACK is a high-pressure Nitro-Combination based formula and is the superior can of its class. Re-developed with 170 powerful, high covering matte finish colors that can be applied to any surface. The ultimate painting experience with perfect control and handling. Short drying time allows rapid re-application and overlapping with other colors immediately. Non-scented aerosol paint made to the highest quality, health and environmental standards. Montana BLACK spray paint is famous for its quality and reliability. The perfect tool for street art and graffiiti artists. With its high pressure valve, Montana BLACK allows users fast application. In combination with the various of Montana caps available, artists will experience a new era of spray painting possibilities. Montana BLACK is weather and winterproof.
COLOR SYSTEM
Re-developed and perfected, Montana BLACK offers a dynamic color range. With 170 matte color shades the range includes 6
Power colors as well as the metallic shades, Gold, Copper, and Silverchrome. It also features TRUE colors that simulate CMY(K) values and special artist colors. A Selection of colors are also available in 150ml and 600ml (refer to color chart).
LACQUER AND VALVE
NITRO-COMBINATION BASE
The Montana BLACK contains fast painting and layering optimized Nitro-Combination lacquer. The matte finish colors are fast drying and high covering. Only high quality ingredients and best pigments have been used for the development and production of the new Montana BLACK, assuring the highest standard of quality.
• 400 ml/170 colors
• 100% waterproof
• High pressure
____________________________________________________________________________________________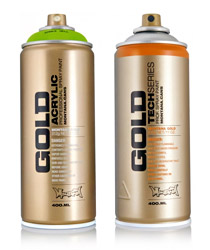 Montana GOLD is the perfect tool for all artists and creative workers. The specially developed Low-pressure system guarantees maximum accuracy to meet the highest requirements while giving professional results! High-covering and quick-drying acrylic lacquer. Montana GOLD allows for a new level of ease and control when painting with spray cans, with no cracking or color bleaching. The new Montana GOLD color system has been completly overhauled and optimized by our dedicated team of artists and laboratory experts to make it perfect. With 204 possibilities, Montana GOLD offers the largest and most concise color range available in spray paint. Montana GOLD can be applied on canvas, wood, concrete, metal, glass or even flexible surfaces. For optimal performance, use with the new Level Cap System 1-6.
LOW PRESSURE & HANDLING:
The new low pressure system allows perfect handling. The new level of control that can be achieved with this can has never existed before. The new Montana Level Caps were precisely developed for the new low pressure system allowing the most even and clean lines with the highest efficiency and accuracy. Spray widths from 0,4cm up to 25cm can be achieved depending on the users skill and experience. For perfect results we recommend the new Level Cap System in combination with Montana GOLD.
THE COLOR SYSTEM
The Montana GOLD color system has been completly overhauled and optimized by artist's and laboratory experts to make it perfect. Some existing colors have been replaced and improved, while new colors have been added to optimize color values and achieve a flowing color range. With some classy new colors like Latte, Cappuccino, Make up und Toffee, the range has achieved a whole new dimention. The grey series of color have also been overhauled to offer perfect nuances to the line with its strong colors like Marble, Wall, Iron Curtain, Roof and Gravel. In keeping with our roots, the Classic Line has been created to provide some fresh "old school" shades well known to the Aerosol Art community from former times. In keeping with the well rounded approach to the range, the new Montana GOLD is complimented with technical sprays such as primers, varnishes and a cap cleaner.
Ñåðèÿ Montana GOLD TECH
The Montana GOLD TECH Series provides technical sprays like varnish gloss and matt, acetone (cap cleaner), universal (plastic primer) as well as a styrofoam primer. The GOLD TECH Series is the perfect completion for the GOLD range. The Varnish can be used to seal and protect artworks created with Montana GOLD or Montana ACRYLIC paint or to give it a glossy finish. Use Montana GOLD TECH Spray Acetone / Cap Cleaner to clean lacquer residues on objects or clear closed caps. Use the primers for pre-treament of different surfaces, especially the styrofoam primer for polystyrene objects and grounds.
• 400 ml/204 colors
• glance and mate
____________________________________________________________________________________________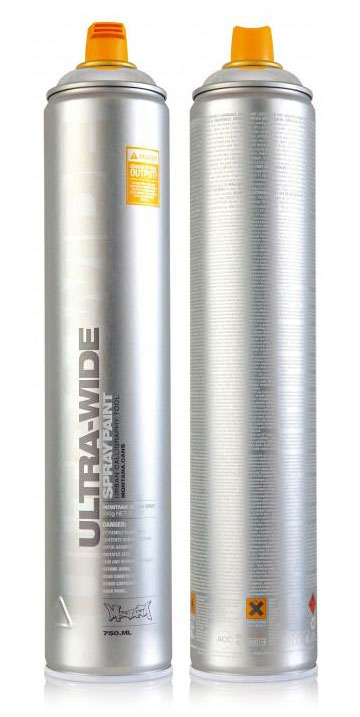 The newest member to arrive in the Montana Cans family is the 750ml ULTRA WIDE can. An ideal tool for contemporary urban calligraphy and ultra wide line work, the ULTRA WIDE can comes in Chrome and Black with a spray width variation from 15cm if applied rapidly at close range, to apx. 60cm if applied slower at a greater distance to the desired surface.
Complimented by a specially developed yellow Ultra Wide calligraphy spray cap which is set in a horizontal spray position, users are able to maximize vertical stroke application and achieve a higher vertical spray reach of upto 2m higher then final stroke height. Maximum output can be achieved with Montana ULTRA WIDE CHROME. Due to high pressure beware of wide output and counterstroke! Surface area can be covered in exceptionally fast time. Do not spray near any electrical power sources!
• 750 ml/black, white
• glance
• high pressure
• áûñòðîñîõíóùàÿ

____________________________________________________________________________________________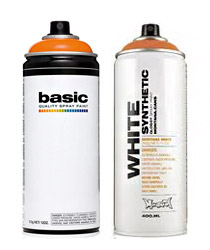 The Montana WHITE 400ml has been created for the user that demands both value and quality. Rather than focus on marketing hype, we've invested our energy into providing a quality product at a great price with the Montana WHITE 400ml range. Consisting now of 51 high covering opaque colors, we have created the Montana WHITE color range as a solid tool for all purposes. Montana WHITE utilizes a synthetic paint base to achieve a fast drying time, with a gloss finish. The high pressure valve system allows for fast application over greater surface area. Functioning in all weather conditions, Montana WHITE 400ml is ideal for us year-rounder. Made in Germany to the highest quality standards at a great price
• 400 ml/51 colors
• glance
____________________________________________________________________________________________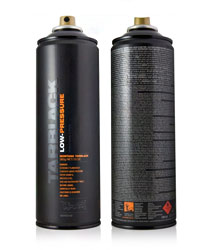 The Montana Tarblack 500ml Low Pressure. Bitumen based Tarblack. It comes equipped with the Fat cap White-Pink for tight wide lines however is compatible with the 1-6 level cap system. This innovative tool allows you to use TARBLACK in "Skinny mode" for the first time. Engineered to also allow optimal performance with skinny caps for the clean application of outlines and details. Winterproof! Optimal performance in cold climate.
• 500 ml/black
____________________________________________________________________________________________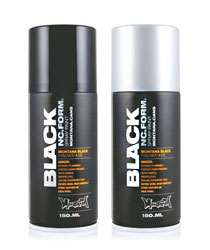 Create your own spider-web like effects with the Montana Spider's high pressure out put. Available in Silver and Black, the Montana Spider can is now also in a new look. Excellent for calligraphic techniques, use the standard cap for broad spider web like marks or swap it for a skinny cap and create rough pencil thin lines for rendering or dribbling effects. Intergrated now in the fmous Montana BLACK Series.
• 150 ml/black and silver
____________________________________________________________________________________________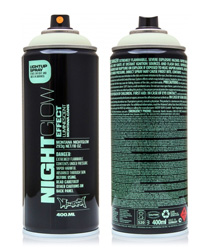 Montana NIGHTGLOW is a high-grade acrylic quality which contains luminescence-pigments, that store light (absorbed energy) and emit the light slowly in darkness. This luminiscence-effect is only visible at darkness. The period is depending on intensity or irradation and thickness of paint layer. The highest possible degree of shining is at the beginning and fades away slowly. For indoors and outdoors applications. The effect spray is suitable for all smooth, rough or light responding primed surfaces. e. g. metal, wood, hard plastics, primed carton, walls etc. We recommend to prime the ground with Montana GOLD Shock WHITE 9100 to achieve best glow effects. Consider longer drying time depending on substrate. Limited resistance to weathering, light and UV-influences. To improve resistance, we recommend to varnish with Montana VARNISH Gloss 400ml.
• 400 ml/ Avavilable color: luminescent-green
____________________________________________________________________________________________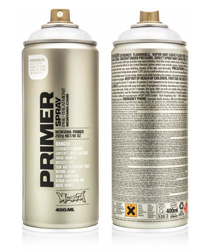 Montana PRIMER enable excellent adhesion and further coating of synthetic, nitro-combi or acrylic spray paints. Montana offers different primers for application on different surfaces that need to be pre-treated such as plastic, metal and styrofoam. The Universal Primer e.g. also works on leather, cardboards, wood and many other materials. After the Primers have been applied you can work with Montana spraypaints on pre-treated ground. Use primers for efficient and more permanent results. Easy to apply, to sand and re-coat. For indoor and outdoor applications (wearing respirator mask is recommended). Cans which are not empty should be disposed of as "special refuse".
USE: Apply primer in several thin layers spraying before the previous coat is fully dry, but with 1 or 2 minutes between each pass. Further coats might require a drying time of 24 hours or more depending on substrate. Always test spray on a non-visible area to check compatibility of lacquer or paint. For optimal lifespan, store cans always with the nozzle on.
• 400 ml
____________________________________________________________________________________________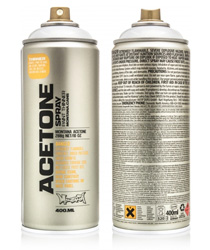 Montana ACETONE SPRAY is a universal thinner and cleaning agent transparent in color. Removes residues of paint, lacquer, (silicone, wax, tar, de-greasing). Ideally suitable for pre-treatment before coloring objects or to remove paint residues after painting. Can be used on porcelain, glass, ceramics, blank metals and others . Evaporates quickly without leaving residues. Non-corrosive. Always test spray on a non-visible area to check for any reactions to lacquer or paint, especially when used on plastic grounds as it may etch syntehtic surfaces.
USE: Test spray on a non-visible area to check for any reactions to lacquer or paint.
• 400 ml
____________________________________________________________________________________________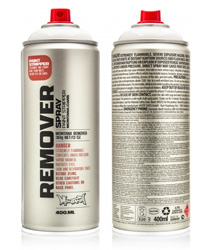 Pollution free etching spray for most usual types of lacquer. Montana REMOVER Spray dissolves and removes lacquers quick and thoroughly. Do not use on cars! Application is possible on many surfaces such as, walls, clay bricks, stone, concrete surfaces, marble, bitumen, glass, metal and wooden surfaces. It becomes a gel-like consistency, thus not running off vertical surfaces. Application on non-ferrous metals might cause discoloration. Content is ph-neutral.
USE: Surfaces should be dry, clean of dust, oils and rust before paint application. Check the firmness and stability of the basic color on painted or lacquered grounds at an inconspicuous spot. Sensitive areas, which you do not want to treat, should be covered carefully with a protective sheeting. Spray generously and let act for approx. 10 – 15 minutes. Depending on quality and age of the paint you want to remove, the acting time can be shortened or extended up to 24 hours. Then scrape off with a suitable tool. If necessary, wash off with cellulose nitrate dilutent or just with water. In case of very porous grounds, use a wire brush. If necessary, repeat the procedure. Before applicaton of new paint, all residues of Montana REMOVER have to be removed.
• 400 ml
____________________________________________________________________________________________