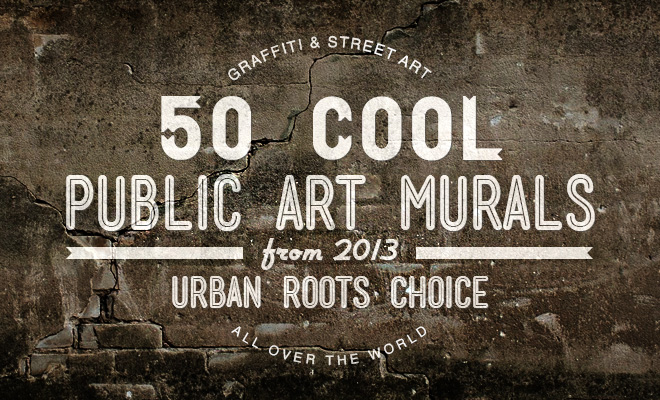 Прошедший год был урожайным на мюрал-фестивали во всём мире и вы наверняка уже видели множество фото-подборок озаглавленных «лучшими стрит-арт работами 2013″ на граффити и совсем не граффити сайтах. Почему же стоит смотреть очередную подборку? Очень просто — потому что именно здесь действительно 50 интереснейших работ. Пожалуй что, только здесь.




Fintan Magee in London, UK

Fintan Magee. «The Artifact» in Bogota, Colombia

Nychos in Hawaii for his grandfather

Vidam — Dxtr «Silence» in Berlin.

Faith47. "Reductio ad Infinitum" for Art Basel

Hendrik Beikirch (ECB) in New York

Borondo for Festival Concreto in Fortaleza, Brazil

Seth Globepainter in Baton Rogue for the Museum of Public Art.

Askew One for Pow Wow festival

Rone in Christchurch, New Zealand for the Rise Street Art festival.

Etam «Moonshine» in Richmond, United States

Sainer «Breakfast on grass» in Miami, United States

MTO in New Orleans, United States

Nuxuno Xn in Fort De France, Martinique

Natalia Rak «The Legend of giants» in Biaystok

Conor Harrington in Rochester, USA

Miron Milic in Zagreb, Croatia

INTI in Lodz, Poland for Urban Forms

Macs. "Slaves of time" in Italy

Seth — Kislow in Paris, France

Bart Smits in Brussels, Belgium

Samuel Rodriguez (Shortyfatz) in San Jos, USA

INO «System Of A Fraud» in Athens, Greece

Case — Lazoo for 2° Bienal Graffiti Fine Art in So Paulo, Brazil

Pener — Bezt «The Healer» for Street Art Communication Festival in Koice